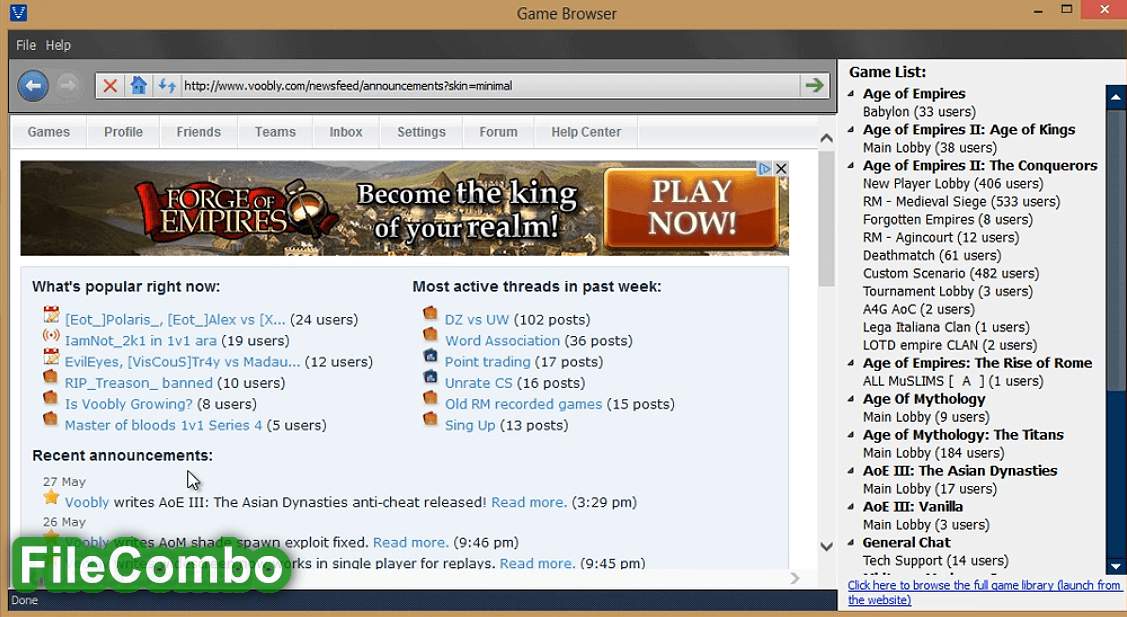 Additional Information
Free social gaming network app where you can play multiplayer games!
| | |
| --- | --- |
| Latest Version | Voobly 2.7.5.5 |
| Requirements | Windows 10/Windows 11 |
| Updated | September 19, 2023 |
| Author | Voobly, Inc. |
| Category | Games |
| License | Freeware |
| Language | English |
| Download | 76 |
---
Voobly
is a social network platform and a
video game utility client
that is centered around providing a seamless way to discover online servers for over 50 classic PC genres such as RTS (
Age of Empires
/Mythology,
Warcraft
), action games (X-Wing series, Jedi Knight), first-person shooters (Quake II and III), racing games (Midtown Madness series), simulators (Flight Simulator 2000 and 2002), and many others.
Because games from these franchises were created before the time of
Steam
and other similar game management platforms were introduced to the market, these
classic games
lacked the ability to easily handle modern services such as game server discovery, server filtering, mods management, direct communication with other players and ability to group up into parties and play together.
Voobly
solves all those issues by offering to gamers one centralized client that can detect their classic games and allow you to seamlessly discover currently available online servers that are supported by the fans themselves.
The app comes in a lightweight, fast, and intuitive package that promotes easy integration with supported games, server listings, chat rooms, a mod center area where you can
customize your games
, and even the ability to create your server that other players will be able to easily discover.
The app promotes
communication between players
, giving each game its own server browser list, player list, and a centralized chat area. All the discovered servers can be sorted in several ways (by free play slots, game titles, number of players, game type, and more), enabling you to find the perfect online game at all times. If you want to find and contact the best teammates, know that even the players are ranked. Additionally,
Voobly
offers several important diagnostic features that can detect the stability of your game client and network connection.
Voobly
is 100% FREE and can be used on PCs with very modest hardware resources.